You are on:
PANDA
>
Wiki
;
login
PANDA Wiki Home
Welcome to the PANDA Wiki. This page only covers selected topics. Hence, please also visit the
PANDA Homepage
.
Physics Topics
Charmonium spectroscopy.
Search for gluonic excitations (hybrids and glueballs).
Multi-quark states.
Open and hidden charm in nuclei.
Open charm spectroscopy.
Hypernuclear physics.
Electromagnetic processes.
These and selected further topics will be studied at PANDA with unprecedented accuracy. Please find a detailed description in the PANDA Physics Performance Report (
pdf 10MB
,
arXiv:0903.3905
) and a 4 page summary on
arXiv:physics/0701090
.
Experimental Setup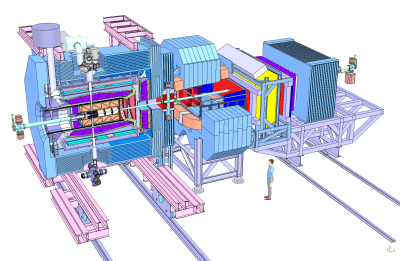 The PANDA experiment at
FAIR
is a fixed target experiment at the antiproton High-Energy Storage Ring (HESR). It comprises two large magnetic spectrometers:
In combination, the two spectrometers allow for tracking, momentum reconstruction and particle identification in close to 4 π geometry. We are currently in the process of finalising our desing. We have yet published the following Technical Design Reports (expert reviewed and acceppted by STI):
and the Technical Progress Report published in Feb. 2005 (
pdf 46MB
).
Additional Information
This is a working directory of current activities and does not intend to list all detector systems and activities at PANDA. It merely lists topics which currently provide information via this wiki.
Detector and Ancillary Systems
Performance Studies and Integration
Organisatorical Issues
Information Concerning TWiki
WelcomeGuest: TWiki is a flexible, powerful, secure, yet simple web-based collaboration platform. Use TWiki to run a project development space, a document management system, a knowledge base or any other groupware tool on either on an intranet or on the Internet. You can edit any TWiki page.
The TWiki TM home is
at http://TWiki.org/
No permission to view WebSiteTools
Panda Wiki.System Web:
System.WelcomeGuest: Look here first to get you rolling on Panda Wiki.
UserRegistration: Create your account in order to edit topics.
Documentation:
How to edit text:
DefaultPreferences: Panda Wiki site-level preferences
Notes:
No permission to view YouAreHere
You are on:
PANDA
>
Wiki
;
login