PANDA Detector Control System
This is the wiki page of the DCS Subgroup. This subgroup has been established during the September 2007 PANDA collaboration meeting at GSI. The architecture of the PANDA DCS and the individual components were ready for implementation and deployment, respectively, by the end of 2009. Actual testing, benchmarking, component development and streamlining will happen along with the completion of the detector until commissioning date. To more appropriately reflect its scope, the DCS group should be renamed ECS (Experiment Control System), so for a while, both acronyms might appear throughout the documentation.
[
Quick Shortcuts:
SupportedHardware
|
eLogbook
|
Process Variables
|
EPICS
|
PANDACSS
|
IdeaBank
|
TalksArchive
] Members of the DCS group should register to this wiki and be added to the
PandaControlsGroup
(please email
LarsSchmitt
with your wiki name to be added).
Organization
The DCS subgroup has been established on September 17, 2007. The present structure is listed below.
Subgroup chairperson(s)
The subgroup chairman at this time is
MarioBragadireanu
. Past chairman:
DanProtopopescu
.
Subgroup members
The most up-to-date list of DCS members can be found either from the DCS_REQ
Contacts table
or from the DCS mailing list.
Strategy Document
A strategy document is currently in preparation. More information can be found in
this wiki
.
Communication
There are a forum and a mailing list hosted on the GSI servers.
Electronic logbook
The PANDA collaboration's electronic logbook is located at:
http://panda-controls.gsi.de/DB/eLog.php
Forum
The subgroup forum is located on the
GSI server
.

It is recommended that members of the DCS subgroup do subscribe to this forum.
Mailing list
Our mailing list is called
panda-dcs@gsi.de
.

GSI Listserv
Meetings
Subgroup meetings will be announced via the
Indico system
. Please see our
TalksArchive
.
Talks
The master archive with presentations from all our subgroup meetings is here:
TalksArchive
. Please attach your talks using your account, such that the author name is visible and easy to search for. Preferred format is PDF.
Teleconferencing
Holger Brand created a virtual room
FAIR Controls
(Adobe Connect) dedicated to controls discussions for FAIR experiments. To arrange a meeting, please contact
Holger
and provide the date, time and subject.
ECS framework structure
It is very likely that the PANDA ECS will be a combination of various specialized systems integrated via a high-level framework.
AFECS
would be the umbrella system that would aggregate the data streams from slow controls, DAQ and online analysis.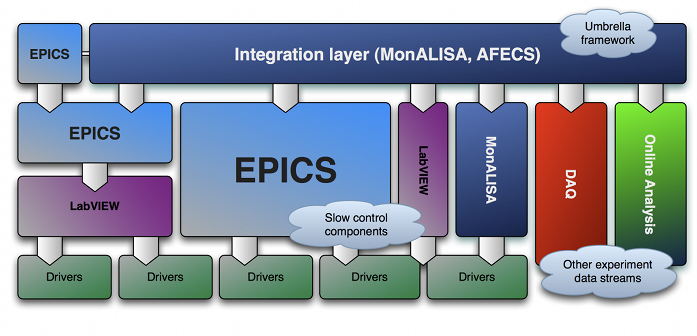 How to write your own slow controls with EPICS and CSS
Find out here the full recipe of how to to this:
DCS-HOWTO.pdf
(PDF with links)
EPICS Wiki (Tutorials & Examples)
The
EPICS wiki
gives some programming specs and guidelines for how to write a simple GUI, send and control parameters, lists tutorials etc. Examples and very friendly how-tos:
​[The two links above now require authentication, which shouldn't be. Maybe the tutorials have been removed as the University of Glasgow is no longer a member of PANDA and DanProtopopescu is no longer working there. TobiasTriffterer, 11 Jun 2013]
PANDA CSS
We will maintain a PANDA-specific CSS version. To use this please visit:
PANDA SVN repository
PANDACSS wiki
Tutorials ...
GSI/FAIR Controls
The GSI/FAIR Controls group is expected to provide:
Framework design
Templates and libraries
Database design and service
Consulting
GSI/FAIR Controls liaison
The liaison persons to GSI/FAIR are:
PANDA Subsystems
The PANDA magnet, target and detector subsystems groups are expected to provide:
Subsystem requirements
Tentative layout of the user interface
Connection implementation
Requirements Database
Our requirements database is available here:
http://panda-controls.gsi.de/DB/
(its structure is described in
DCSRequirementsDB
). The detector subgroups should collect and enter (at least preliminary) numbers into this database by the end of 2008.

The online interface automatically produces EPICS *.db files based on the information from the databases, and some easy IOC test scripts.
Detector liaisons
There should be a liaison person for magnet, target and for each detector subsystem. The liaison persons are expected to participate to the DCS subgroup meetings. The list can be found here:
http://panda-controls.gsi.de/DB/interactiveTable.php?name=Subgroups
The heads of the detector groups are in charge of collecting DCS requirements (regarding physics signals, parameters, interdependencies) and liaising with the DCS group. Detector groups are invited to present their plans/ideas regarding DCS within the subgroups session during our collaboration meetings. The heads of the detector groups are invited to volunteer.
Milestones
End of 2008 - have a complete set of DCS requirements in our Database
End of 2009 - PANDA toy EPICS system for testing and integration trials up and running
Start of 2010 - PANDA Electronic Logbook (http://panda-controls.gsi.de/DB/) up and running
End of 2010 - EPICS GUIs look and feel, examples and documentation widely available
Spring 2011 - Communicate on info time issues with the accelerator group
Spring 2011 - Get the FEE group closely involved (share/display rates, thresholds etc.)
Idea bank
To collect general and specific ideas in a place where it's easy for everyone to review and contribute, we set up a wiki where you are invited to visit/edit:
IdeaBank
Hardware
SupportedHardware
is a wiki describing the proposed/tested/supported sensor/control hardware for the PANDA ECS. Early contributions have the chance to set the standards and significantly help other detector subgroups. Please contribute.
Documentation
It is advisable that the members of the DCS group browse the documentation for EPICS, AFECS and
MonALISA
. PANDA ECS specific documentation will be linked/attached here as it is written.
PV Naming Conventions
The naming convention for PANDA slow control process variables is outlined in this wiki:
PVNamingConventions
. We recommend implementing these rules early, to avoid later confusion.
Related topics
--
DanProtopopescu
- 15 Dec 2011